Massage chairs are truly versatile products per se, in that they provide relief from several ailments affecting different parts of your body. But one of the most common questions consumers ask is: Do massage chairs help back pain?
The answer is yes! In this article, we'll dive into the topic a bit further to explain why and how massage chairs help with back pain. 
Key Benefits of Massage Chairs
First and foremost, contrary to popular belief, massage chairs aren't a luxury item. In fact, they provide myriad health benefits that justify their price tag.
You probably already know the wonders a good massage can do to relieve tension, and back pain. But most often than not, visiting a professional massage therapist isn't possible for several reasons including costs, and convenience.
While human touch is one of the key traits that's differentiates a massage from a licensed massage therapist from an electric massage chair, some of the best massage chairs do indeed have a lot to offer, when it comes to pain relief and relaxation. 
And the best part? Massage chairs can do this without any person-to-person interaction.
This means that you can get the relief you need when you want, and in the comfort of your home. Getting an effective massage in the privacy of your home, coupled with convenience, and time efficiency are few of the biggest reasons why people opt to buy a massage chair.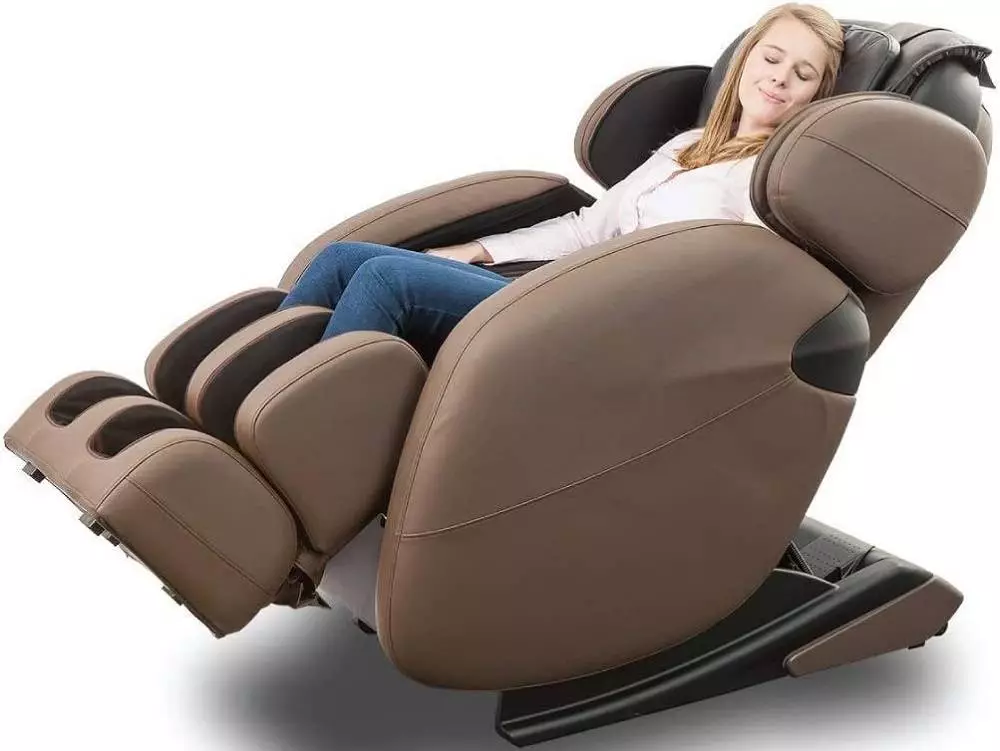 L-track, 4 roller massage system
Air-cell massage technology covers entire body
Space saving technology with 3 zero gravity positions.
Dual foot rollers on the feet area
Computerized body scan technology
5 Manual Massage Techniques
6 Auto Programs
Heating Therapy on lower back and legs
Adjustable roller speed and air cell massage up to 3 levels
How Do Massage Chairs Help Back Pain? 
Massage chairs provide a plethora of different types of massages that prove beneficial for several different functions of your body such as:
Venous and lymphatic flow – stimulating muscles with a massage improves overall blood circulation, and facilitates the circulation, and absorption of essential nutrients into the tissues, and muscles in your body. When toxins are cleared due to increased lymphatic circulation in certain areas of your body, the massage area is revitalized, hence you experience greater relief from pain, and discomfort.
Improve skeletal system – when your muscles are functioning in good order, it reduces the strain on your skeletal system. Quite often, the pressure placed on your immensely tensed muscles can cause you discomfort and pain.
Massage chairs models that come with kneading and stretching features can relax the muscles in these problematic areas, and can also aid in the alignment of your spinal cord, which is regarded as a common cause of back pain.
Increases endorphin levels – perhaps one of the most important benefits of buying a massage chair is raising the "feel good" aka endorphin levels in your body. Boosting endorphins in your body offers twofold benefits — reduced pain/anxiety, and quick recovery.
Reduce stress – often times when your muscles are overworked, your muscles and skeletal system tend to become overtight. A good back massage chair can stimulate the muscles, resulting in increased oxygen and nutrients to areas in your back. Even better is if you have a massage chair with heating functionality that can help provide relief from muscles spasms.
Consistency – most of the best massage chairs come with programmable memory functions, which allows you to preconfigure the massage settings that work well for you. This also means that you can get the same exact massage each time you use the chair, without having to waste time toggling around with the settings again.
Can Massage Chairs Cause Injury?
Massage chairs can help provide relief from back pain, but can also cause injury if used incorrectly. Before using a massage chair, whether to treat mild or severe back pain, you should always seek medical advice to ensure the chair won't cause more harm than good.
If you're just getting your feet wet with massage chairs, or are using one after a long period of time, you may feel mild soreness or discomfort after the massage. This mild pain, and tenderness can continue for the next few days until your body gets used to the stimulation of the device.
There are several things you can do to prevent the discomfort from initial massage chair use, starting with short massage sessions, and maybe two or three times a week. We recommend that you start off at the massage chair's lowest intensity setting, and then raise the bar as and when you get comfortable.
Common Issues When Using A Massage Chair?
Overuse of a massage chair can also result in a host of issues, most commonly muscle tenderness, inflammation, and irritation. Adding to this, the manipulation, and pressure caused by massages can cause small tears in the muscles, and their respective connective tissues.
Again, this type of pain generally lasts a few days after you first use a massage chair. But, if the pain persists or causes any injury, you should seek medical attention. As mentioned earlier, massage chairs can come with a ton of features, and offer a wide range of massages.
You should acclimate yourself with the many functions and massages available when the chair first arrives. Although rare, you may also experience mild bruising after a massage session. This may be caused due to several factors, but if mostly seen in elderly people, or those taking certain types of medications that make them prone to bruising.
Final Thoughts:
There's no doubt that massage chairs are a great addition to your home, even if you don't suffer from any back related or other ailments. If you suffer from back related injuries or pain, then you've got just few more reasons to buy a massage chair.
Massage chairs can provide both physical and psychological benefits to considerably reduce the symptoms of your back pain. But of course, given that no two human body systems are built the exact same, you may also feel discomfort when using a massage chair. On a brighter note, this mild discomfort fades away after the first few massage sessions, but consult your doctor if the pain does get worse.