Ahhhhh … a massage. What could be better than a nice long massage to ease both your body and your mind?
These days, many people have regular massages not just for pain relief, but also to keep their muscles supple so they suffer with fewer headaches and keep themselves in a good mood.
After all, massages are good for much more than physical relief – they also help your psyche.
Why Buy A Massage Chair?
If you don't have the time or money to get a massage regularly, you might want to consider getting a massage chair, especially if you regularly have aches and pains.
Although they can be a bit pricy in the beginning, they tend to last a very long time and provide you with many years of relief and comfort.
You don't have to buy the fanciest one on the market – as long as it is made by a reputable company, you'll get a lot of years of use out of it.
Massage chairs do a great job of manipulating your muscles to keep them from getting too stiff. If you're interested in learning some of the main benefits of getting one of these chairs, consider some of the reasons discussed below.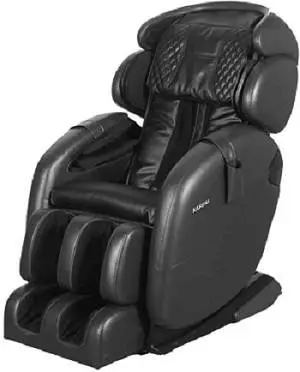 L-track, 4 roller massage system
Air-cell massage technology covers entire body
Space saving technology with 3 zero gravity positions.
Dual foot rollers on the feet area
Computerized body scan technology
5 Manual Massage Techniques
6 Auto Programs
Heating Therapy on lower back and legs
Adjustable roller speed and air cell massage up to 3 levels
1. Relaxation
Naturally, the biggest advantage of buying a massage chair is that it helps keep you relaxed.
In fact, there are different types of massage components used in each of the chairs, so it's good to test each one out before you decide which one to buy.
Some provide a harder rubbing action than others, so you'll need to find one you're most comfortable with. All of them, however, help keep you more relaxed, both physically and psychologically.
2. It Allows You to Breathe Better
When it comes to reasons why a massage chair is so great, few people know about this one. Most people do not breathe with deep breaths but instead use shallow breaths, which isn't good for your lungs.
Massage chairs relax the muscles in your back and around your lungs so that taking in deeper, longer breaths feels more natural to you. Because of this, you'll be able to rejuvenate your entire body by breathing deep and learning how to breathe properly.
3. It Can Help You Get Better Posture
One of the things a good massage chair does is distribute all of your weight evenly while you're sitting in it. It does this naturally because of the way it is made, which sort of forces you to sit right.
This also helps relieve pressure points in your shoulders, neck, and spine and therefore, it is easier from then on to maintain better posture even when you're not sitting in the chair.
If you have a job that requires you to sit for long periods of time and you feel like your posture is suffering because of it, a good massage chair can help.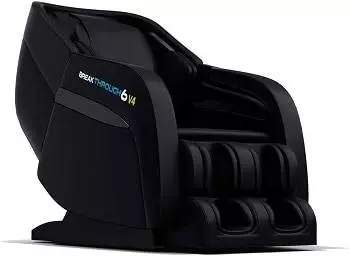 Designed by over 25 doctors, surgeons, chiropractors, and pain specialists, this feature packed massage chair comes with zero gravity, advanced 3D technology, heating function, chiropractic back stretch customization setting, pre-program massage functions and many more! 
4. It Is Good for Cancer Symptom Relief
If you're going through chemo, the side effects can be terribly difficult. Some of those side effects include fatigue, nausea, depression, anxiety, and many others.
Spending some time in a massage chair relieves both physical and emotional pain and helps you feel better all the way around.
In fact, many hospitals and clinics include these chairs as part of their treatment for cancer patients because they do such a good job at relieving unpleasant symptoms.
5. It Makes for Fewer Tummy Troubles
When you're digesting food, certain muscle groups have to work properly for the process to work, and for those muscles to work right, they have to be relaxed.
Since spending time in a massage chair results in better blood circulation, this directly affects how relaxed your muscles are.
Massage chairs will relax all of your muscle groups, including the ones needed to properly digest food, and the effects last much longer than the time you spend sitting in the chair. This results not only in better digestion but also less constipation and a much cleaner body.
6. It Lets You Be Proactive with Your Health
A massage chair relaxes your muscles and your mind, and if your muscles and mind are kept in a relaxed state, you can handle future stress a lot better.
In essence, massage chairs allow you to take a preventative approach to your health, especially because regular improvement in your physical health – which is what these chairs do best – is so important in preventing many ailments.
7. It Makes Your Skin Look Better
Again, massage chairs increase blood circulation, and this results in faster growth of new cells and faster repairs of damaged cells, which makes your skin more supple and much more attractive.
You'll have better skin tone and skin that is much younger-looking and noticeable. The longer you use your massage chair, the longer you'll enjoy having skin that everyone else will envy.
Conclusion
Massage chairs work wonders at relieving both physical and emotional ailments, and if you've never used one before, you owe it to yourself to give it a shot.