Massage guns have come a long way since their inception in 2008, with newer models being a go-to choice for leading sports enthusiasts, and avid fitness buffs. But just like anything else in the market, massage guns aren't perfect, and may not be the best choice for everybody. 
One of the biggest massage gun disadvantages is that it can make injuries such as sprains, strains, and broken bones worse if you don't use it properly. That said, here are five massage gun disadvantages worth considering before making the investment. 
5 Massage Gun Disadvantages  
1. User Error 
Massage guns are not the same as massage chairs in terms of usability, and the major difference between the two types of massaging devices, is that the latter requires some level of experience for effective and safe massages.
While you do not have to be a trained expert in massage therapy to use a massage gun, you will have to familiarize yourself with how to target the correct areas to ease your pain, and help speed up with recovery. 
Most of the best massage guns available in the market come with detailed instructions and guided exercises, but take note that this is general information, and not specific to your individual needs.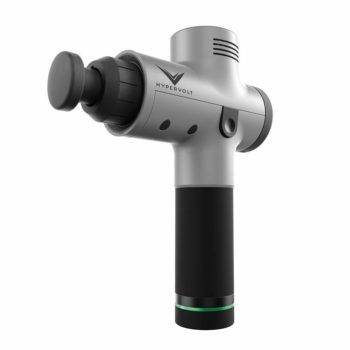 One of the original premium massage guns. Featuring Quiet Glide technology, the Hypervolt delivers powerful massages quietly. It's one of our all time favourite massage devices!k. 
2.  Some Massage Guns Can Be Loud 
One of the noteworthy benefits of massage guns, is that they offer unmatched portability compared to other massaging devices. But on the downside, certain massage gun models can be pretty noisy, hence not suitable if you want peace and quiet when getting a massage.
Saying that, many of the top massage guns in the market today, like the Hypervolt Massage Gun, offers powerful percussion massages whilst being whisper quiet.  
3. Rely on a Battery 
Unlike human powered standard foam rollers or handheld massage tools, percussion massage guns are cordless, that is powered by batteries. While some of these batteries do provide long runtimes, you must ensure that your battery is charged at all times. 
4. Price Tag 
Not all massage guns ring in with expensive price tags, but there is no shortage of poor and cheap massage guns in the market either. Most of the best massage guns cost between $100 – $600, with the premium brands costing over $300 generally, so they are definitely not cheap tools. 
However, on a brighter note, the long list of benefits massage guns provide outweigh the expensive prices, making them a great investment for just about anyone. 
The Theragun needs no introduction! It's one of the top premium percussion massage guns love by athletes and celebrities alike!. 
5. Cannot be Used in Certain Conditions 
Massage guns can help breakdown of scar tissues, relieve muscle stiffness, and rehabilitate injuries in your muscles. 
However, massage guns are not suited for people experiencing certain ailments such as diabetes, high blood pressure and multiple sclerosis. 
But since every individual is different where the seriousness of the condition may vary, it is best to speak to a medical professional to see if a massage gun is right for you. 
Final Thoughts: 
Massage guns are an effective way to get muscle recovery treatment in the comfort of your home, but they may not be the right choice for everyone. 
But even with the handful of massage gun disadvantages, massage guns are worth every penny, and can serve you well for years to come, as long as you use it properly.