Anyone who tried having a massage session on a massage table knows that it's a lot more relaxing and comforting. That's why a lot of people consider buying their own massage table!
You might be wondering, "why should you buy a massage table? Is it necessary?" although the massage table itself isn't an absolute necessity for enjoying a massage, having one at your house can be extremely rewarding in a wide variety of ways.
In this article, we'll explore the various perks of buying a personal massage table and how to pick a good one for your needs. So without further ado, let's dive in!
6 Reasons to Get a Massage Table
To answer your question, here's a list of 6 different reasons to treat yourself to a personal massage table!
1. Relief Pain and Headaches Easily
Getting a proper massage is scientifically and experimentally proven to reduce body pain, headaches, as well as stress. 
Although a massage can still work on a chair or a bet, no surface is more optimized for receiving and giving massages than a massage table.
So, you can rest assured that you're making the most of the massage session when you throw in a massage table in the equation!
2. Avoid Daily Stressors on a Regular Basis
Since a massage table usually guarantees a better massage, you might have to visit the nearest spa or therapy center to get yourself a massage.
However, having to go on a trip to the center might be too exhausting for an already stressed-out person, especially if you're going on your day off.
In that case, having a massage table in your house means that you'll enjoy the massage session from the comfort of your own home, and as many times as you need!
This can also be more cost-efficient because, in the long run, you might save yourself a fortune on gas bills as well as the pricey costs of a spa session.
Produced by Earthlite, one of the world's most trusted Massage brands. Made with sustainably sourced wood, featuring patented deluxe adjustable facecradle, with proprietary Cloudfill poly-gel blend facecradle cushion and durable nylon carry case.
3. You Won't Have to Worry About Cross-Contamination
If you're a germaphobe who gives a lot of care to the cleanliness of your belongings, you might not be entirely comfortable with sharing a massage table with strangers, even if you're sure that the tables are being cleaned.
To avoid any accidents that can transmit any diseases through cross-contamination, you can opt for a massage table that you can personally handle its cleanliness and maintenance.
4. Adjust the Table to the Finest Details
Another major advantage of having the massage table at your house is the ability to adjust everything about the table to your preferences.
This will help you fine-tune the height as well as the inclination of the table to provide you with the maximum level of comfort while having a massage.
5. You Can Also Give Massages
In addition to all the benefits you'll get from having a massage table in your house, you'll also enjoy the perk of giving massages yourself. 
With a massage table at your disposal, you can provide your loved ones with a healthy and relaxing massage. You can also find new ways to connect with your partners!
In addition to all that, having a massage table is ideal for amateur and intermediate level masseurs to train and try out different techniques.
6. It's Extremely Convenient for Masseurs
Although most massage therapists will have their own portable massage table, they can offer discounts to those who provide a table.
If you get your own massage table at home, it'll be much easier for you to book private massage sessions all the while saving the masseur's back.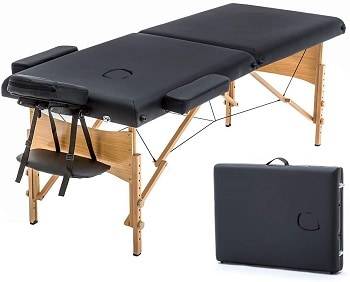 Fully featured and economical massage table package. This massage table is ideal for professional therapists, Therapy students, and home users alike. It's precision-crafted with hardwoods and features a full 2 fold of high-density luxury padding to ensure a more comfortable massage experience.
What to Consider Before Getting a Massage Table
If you've decided to get a massage table, here are some essential aspects to keep in mind while buying:
Maximum Weight Capacity
Always make sure that the massage table you opt for can comfortably support your body weight.
Construction & Durability
Check the frame of the table and look for massage tables with a frame made from durable and wear-resistant metals. 
Stain Resistant Sheets
The sheets should also be made of premium quality vinyl that has a decent level of stain and moisture resistance.
Other Features & Accessories 
The ideal massage table should provide various essential features, such as height adjustability and luggage-style closure as well as accessories like face cradle and armrests.
What Are the Best Personal Massage Tables on the Market
Here's a list of the top 3 portable massage tables that you can find out there:
Wrap Up
There you have it! A complete guide that answers the question "why should you buy a massage table?".
As you can see, there are multiple reasons why buying a massage table would be an excellent investment for you.
If you want to indulge your body with a one of a kind massage experience, keep the previously mentioned points in mind while buying one. Assuming we have helped you make up your mind on purchasing your first massage table, here's another helpful article on how to easily clean your massage table step by step.